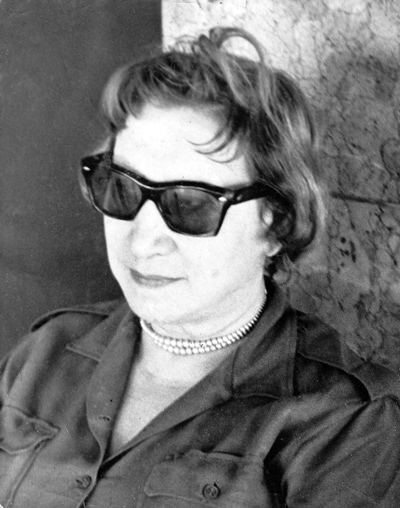 Dolores Soldevilla Nieto
María de los Dolores (Loló) Juana Soldevilla Nieto was born June 24, 1901 in the Pinar del Río Province, Cuba. She was the third child of a piano teacher, María Paula Bathilda Nieto Lannes and a merchant, Raoúl Soldevilla Seballos, both originally from Pinar del Río. Her maternal grandparents were Severo Nieto (Pontevedra, Spain) and Lorenza Lannes Díaz, baptized in Pinar del Río. Her paternal grandparents were Pedro Soldevilla Martí (Caracas, Venezuela) and Dolores Seballos Bermúdez (Habana, Cuba).
Loló was a precocious, restless, and curious girl. She was surrounded in her early years in Pinar del Río by a numerous, charismatic, and cultured family. Her mother's and uncle's instructions provided a learning environment, and from an early age she practiced reading and writing, singing, piano, and the appreciation of various art forms such as painting and theater. Also as a child she was reflective of social issues since she was surrounded by ideals and actions that defined her family during that time.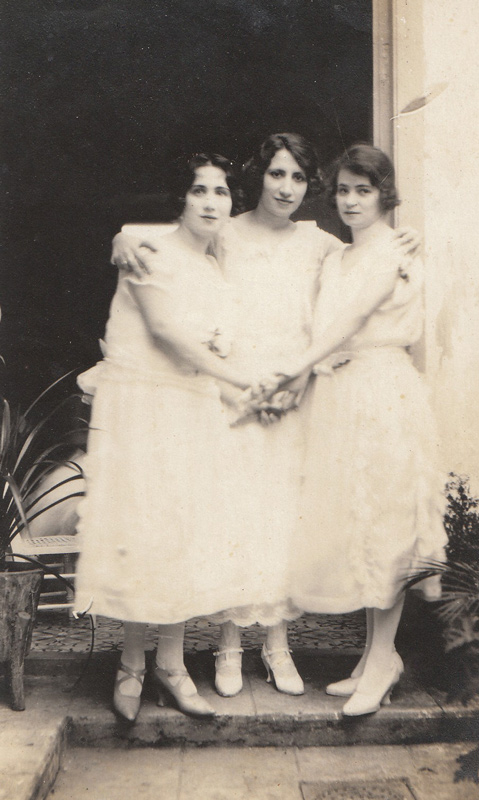 Around 1911 Loló is translated to Havana with her family. There she studied and graduated from piano and vocal performance (soprano). She trained her voice with professor Zoila Gálvez in the Municipal Academy of Havana and violin with professor Casimiro Zertucha in the Falcón Conservatory. In 1926 Loló went to live with her mother and sister near Paseo del Prado, where they remained until they were evacuated during the catastrophic hurricane of that same year. At age 25, Loló married Manuel de Jesús Nazario Barba Bonen, a professional pianist. From this marriage were born her three children, Haydée, Magaly, and Pasto; the latter passing at one year old.
In 1934 she founds the "Loló Orchestra," composed of women and with a Latin American and Cuban repertoire. She directed the orchestra and played the violin. They performed regularly in the "Aires Libres" in the cafés of the Paseo del Prado in Havana.
During these years Loló refines her political ideals and actions, stemming from her early education in Pinar del Río and family traditions. She takes part in diverse activities against the government of Machado and she was imprisoned more than once in the Women's Detention Center of Guanabacoa. In 1937 she becomes a member of the National Executive Committee of the Cuban Revolutionary Party (Authentic), where she carried out activities according to that historical moment. In 1940 Loló marries syndicalist Eusebio Mujal and they divorce four years later due to the discrepancy of their political ideas. In 1946 she represented the Authentic Party as a member of the House Representatives of the Oriente Province, where she was named President of the Commission of Press and publicity. She travels to Prague in 1947 to participate in the first session of the International Women's Federation. Loló was charged with representing and defending the ideals of Cuban women, their social problems, the defense of children, etc. In 1948 she became a member of the House of Representatives of Cuba. Between her actions one could mention the public denouncement about the assassination of the farm workers leader Sabino Pupo, the proposal for a law for minor courts, the retributions due to sugar workers, among other demands.
That same year she was invited by the American Federation of Art in Washington and she visited museums in Boston, Philadelphia, Chicago, and New York. Later that year she travelled to Paris and begins to paint under the guidance of her painter friend Wifredo Lam. At that time she creates her first small and large format sculptures, drawings, portraits, and projects for mural paintings.
In February of 1949 she is named Cultural Attaché in the Cuban Embassy in France. From that moment on, her career as a visual artist deploys in intense and varied studies and exhibitions. She matriculates in the "Académie de la Grande Chaumière" in Paris and begins her sculpture studies with professors Léopold Kretz and Ossip Zadkine. In the 1950s she travels across Europe with her daughter Magaly.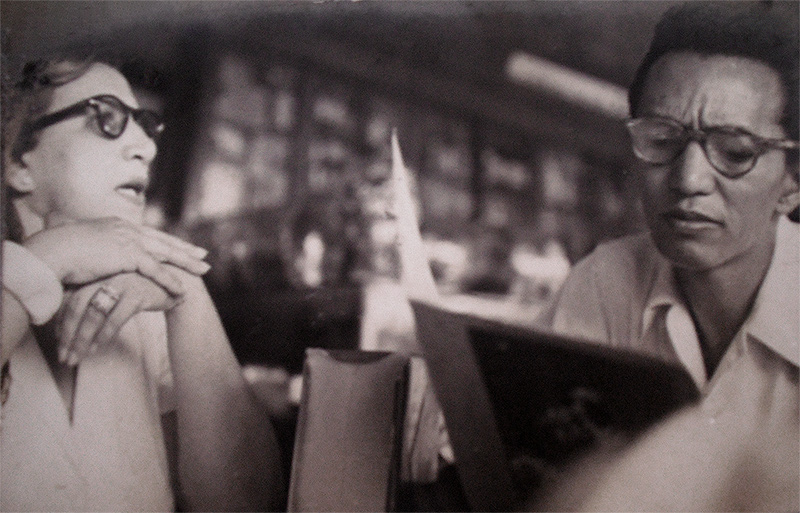 In Spain, she meets Eusebio Sempre who dedicated the poem collection "Claridad de Vivir. Versos Populares." Together with Lam, she visits museums and galleries in Switzerland, Holland, Belgium, Great Britain, Austria, and Eastern Germany. She continues her studies in various workshops and attends several conferences on new artistic trends. She also continues establishing connections with painters, sculptors, musicians, writers, photographers, and artistic personalities of Cuba and the world. She exhibits her work in various individual and collective shows, such as an exhibition in Tampa.
She returns to Cuba and exhibits there for the first time. In the show "Loló esculturas" (November 23-27, 1950) in the Lyceum Lawn Tennis Club of Havana she presented 22 sculptures and one oil painting. Back to Paris she participates in various collective exhibitions including Salon d'Automne Grand Palais del Champs Elysées; Peintres, graveurs et Sculpteurs Etrangeres (Ecole Nationale del Beaux-Arts, Paris). She also participates in Jubilé International in the Cité Universitaire, among others. There she becomes part of "The Dissidents," and she travels to Mexico invited by the painter Felipe Orlando.
In 1951 she promotes and organizes, as Cultural Attaché of Cuba in Paris, the exhibition, "Art cubain contemporain, in the Musée National d'Art Moderne de la Ville de Paris. She includes works of Pedro Alvarez, Wifredo Aracy, Cundo Bermúdez, Servando Cabrera, Mario Carreño, Mirta Cerra, Roberto Diago, Carlos Enrique, Eberto Escobedo, Roberto Estupiñán, Carmelo González, Maximiliano González, Carmen Herrera, Wifredo Lam, Víctor Manuel, Luis Martínez Pedro, Felipe Orlando, Oswaldo, Amelia Peláez, Fidelio Ponce, René Portocarrero, Mariano Rodríguez, and Manuel R. Tardo. She meets Dutch constructivist César Doruela.
She travles throughout Holland, Switzerland, Belgium, and England, visiting museums and sculptures by Henry Moore and Jacobo Einstein. She becomes member of the Atelier of abstract masters: Dewasne and Pillet in Paris until 1953. Simultaneously, she establishes contacts with sculptors Gerdur, Jacobsen, Tahiri, She participates together with Jean Tinguely, Víctor Vasarely, Yaacov Agam, Panait Istrati, in a series of conferences organized by J. Alvard, A. Bloc, L. Degand, Ch. Estienne, A. Herbin, among others, about abstract art. In one of her trips to Cuba she organized a show, on January 10, 1053, presented in the "6th National Salon of Painting and Sculpture," in the National Capitol Building of Havana. In June of that year Loló must leave Cuba with part of her family. They arrived in Paris the night of June 19, the same in which Ethel and Julius Rosenberg were executed in the United States.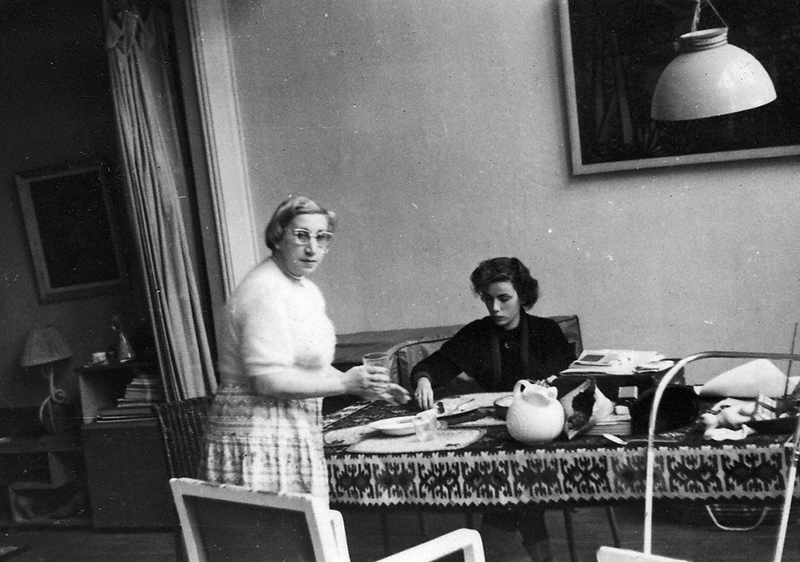 Together with the Parisian crowd, Loló and her daughter Magaly went to the Place Concord to protest. During that time Loló meets Jesús Soto and Varela in Paris. She also studies engraving with professors George Hayter and Gérard Cochet.
During 1955 she exhibited for the first time with Eusebio Sempere in the Círculo of the University of Valencia, Spain, and in Paris with Soto, William Klein, Carlos Cáceres Sobrea, Alert Bitran, María Martorell, Koskas, and Varela.
In 1955 she participates in different collective exhibitions in Germany, Switzerland, and Spain. Among them, in the "10th Salon des Realités Nouvelles Gallery" of the Museum of Modern Art in Paris. It is there where Loló presented her first luminous reliefs incorporating light in her modern art practice. Also there, she writes with Sempere, the "Light Manifesto," on July 8th, 1955.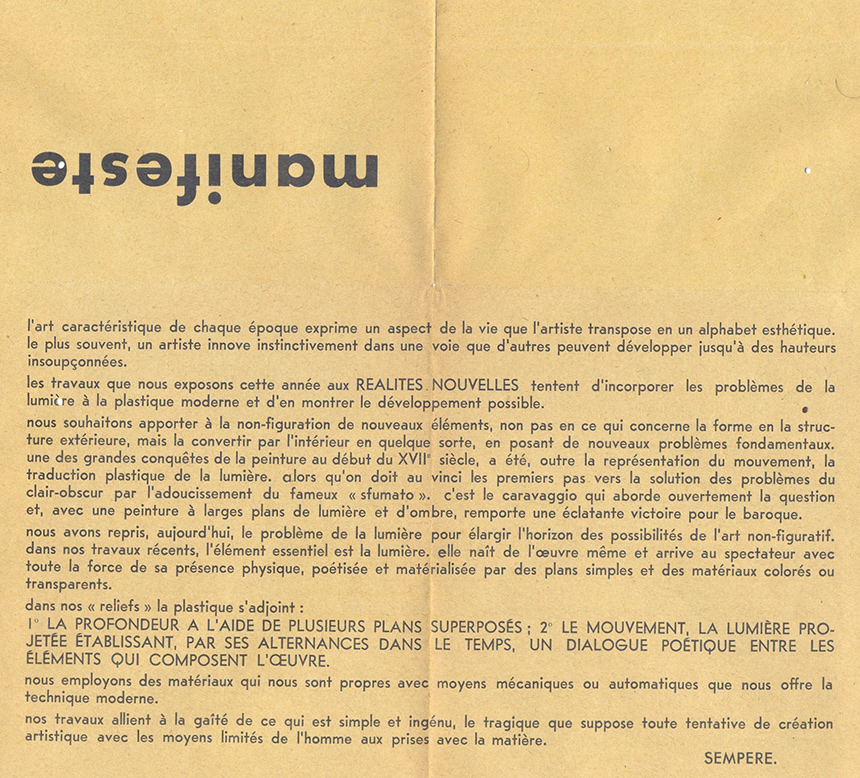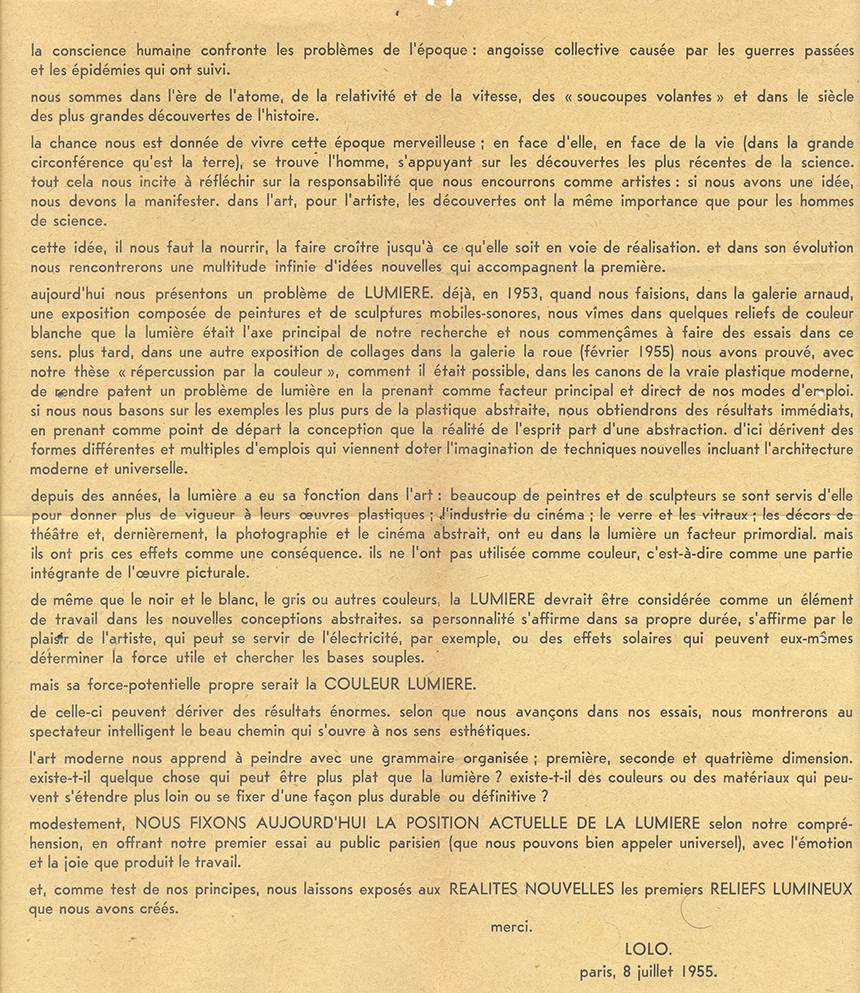 In 1956 she organizes in Cuba the first international show of abstract art in the Palacio of Bellas Artes of Havana, entitled "Painting of Today, Vanguard of the Paris School," (March 22, 1956). There were presented works by 46 European artists, among them Jean Arp, Juan Dewasne, Andre Bloc, Sonia Dlaunay, Michel Scuphor, Pillet, Victor Vasarely. From Latin America participants included Omar Carreño, Alirio Oramas, Jesús Rafael Soto, and Víctor Varela. And from Cuba there were works by Sandu Darie, W. Arcay, and Loló herself.
In May 1957 she travels to Venezuela accompanied by Pedro de Oraá and she exhibits her geometric paintings, constructivist panels, and light boxes in the Sala del Centro Profesional del Este, Villa Flor, Caracas. She also exhibited in a collective exhibition in the Galería Sardio. In Europe she participates in collective exhibitions in Germany, Switzerland, and Spain. During that time she makes contact with sculptor Nicolas Schöffer, from whom she receives instructions and they exchange ideas related to art. Together with Pedro de Oraá she founds the "Galería de Arte Color Luz" in Havana, on October 31, 1957. The opening saw the exhibition of the collective show, "Cuban Painting and Sculpture," which included works by Abela, Amelia Peláez, Arcay, Agustín Fernández, Cundo Bermúdez, Ferrer, Hugo Cosuegra, Wifredo Lam, Mariano, Mirta Cerra, Mijares, Pedro de Oraá, Pedro Álvarez, Raúl Martínez, Servando Cabrera y Sandu Darié y Lantigua, Dirube, Estupiñan, Lozano, Tomás Oliva, Tony López y Sobrino. The catalogue's introductory words were by José Lezama Lima. This gallery would become a point of encounter for Cuban abstract painters. Years later, it would be moved from its original location in 5th Ave and 84, Miramar, to Calzada del Vedado in Havana.
In 1958 she participates in two exhibitions in Maracaibo, Venezuela, one individual and one collective with other Cuban artists. Loló organizes the exhibition in the Galería Color Luz entitled "Anniversary. Cuban Painting and Sculpture" (December 12, 1958-January 12, 1959). At that time she creates the group Ten Concrete Painters, formed by Sandú Darié, Pedro Carmelo Álvarez López (subtituted in 1960 by José Ángel Rosabal Fajardo), Salvador Corratgé, Luis Darío Martínez Pedro, José Mijares, Alberto Menocal, Pedro de Oraá Carratalá, Rafael Soriano López, Wifredo Arcay Ochandarena and Loló herself. That same year, they organize the exhibition: 10 Concrete Painters.
In 1959 Loló becomes an editor of the journal Revolution. After the triumph of the Cuban Revolution she operates in diverse areas without neglecting participation in key exhibitions including in December of 1960, "Libertad para Siqueiros," in the Edificio Seguro Médico in Havana. In November 1961, to commemorate the second anniversary of the creation of Galería Color-Luz, and its new location in Vedado, the group "Ten Concrete Painters" inaugurates an exhibition of paintings, drawings, and other objects. In the same year, the group exhibited "A/Pintura Concreta," in celebration of the First National Conference of the Union of Artists and Writers (UNEAC) in the National Museum of Fine Arts of Havana. The Latin "A" and the archaic A were recreated by Martínez Pedro and Loló Soldevilla, respectively. This was the last public activity by the group and they closed the doors of Galería Color Luz.
Among Loló's various occupation during those years, we know that she was a professors in the Faculty of Architecture in Havana, teaching courses in Visual Arts between the years 1960 and 1961. She also designed toys in 1962 for the National Toy Factory of Cuba. She was founder and member of the Cuban Journalists Union (UPEC) and of the National Union of Writers and Artists (UNEAC) in 1961. Simultaneously, she published with Ediciones Revolución the books "Ir, venir, volver a ir. Crónicas 1952-1957," in 1963, designed by Pedro de Oraá and with a cover image by Loló. In 1964 she published "El Farol" with a cover design by Raúl Martínez. Also in those years, she writes two novels and a short story collection, which are currently in the publishing process. Among other varied activities in 1964, she founds the Grupo Espacio with Regla Díaz, Otto Bermúdez, Jaime Bellechasse, Julio Pérez, Inverna Lockpez, and Jonny Ibáñez.
Between the years 1965 and 1971 she becomes a contributor of the newspaper Gramma, where she published various articles about Cuban artistic life of that time. She also collaborated with the magazine Bohemia. She continued her work as painter, producing her last exhibitions in the "Salon de Mayo," inaugurated on July 30, 1967 in Havana, an event promoted by Wifredo Lam and Carlos Franqui. In 1970 in the Casa de Cultura Checoslovaca, she presents a retrospective of collages and participates in the "Salón 70" in the National Museum of Fine Arts. In 1971 she participates in an Exhibition with the Group Espacio in the Central Camilo Cienfuegos of Matanzas. That same year, she begins to organize and prepare, together with colleagues, an exhibition titled "Retrospective of the Works of Loló Soldevilla," in the Gallery of Health Ministry Building (August 16-September 5). The inauguration remarks were by notable writer and Loló's friend, Nancy Morejón. Loló dies on July 5th, 1971 without having had the opportunity to see her last exhibition.
Loló's pictorial work has been exhibited in numerous shows in national and international venues. Various catalogues have been published featuring her works. There are essays, articles, theses, and other documents about her pictorial oeuvre in Cuba and various countries abroad. All those writings have been an invaluable addition to the work and life of Loló.
We hope that this publication can confirm the beauty of her art, her honest, modern, Cuban and universal work. We are certain that Loló, innovative woman, would have been pleased with the use of this new platform to exchange, record, and propose new projects.
We thank all friends, collectors, and editors for their assistance, support, enthusiasm, and respect for the work of this Cuban painter.
Martha Flora Carranza Barba, June 2019